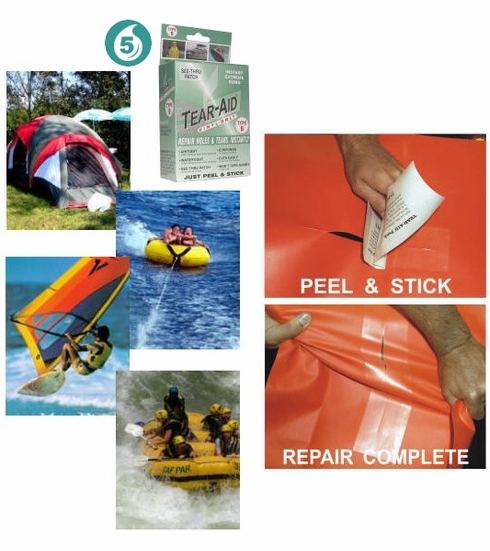 Tear-Aid Patch Kit - Type B
Each TEAR-AID® repair patch is made from an exceptionally tough, matte finish, abrasion resistant, elastomer that resists puncture and tearing. It is combined with an aggressive adhesive formulated for high bond strength to a variety of surfaces such as canvas, leather, rubber, nylon, most plastics, paints, aluminum, stainless steel, fiberglass, polyurethane, polyethylene, polypropylene, vinyl and vinyl coated. TEAR-AID® provides a simple and easy method of patching holes and tears, as well as an excellent protective film solution.
This Kit is includes TYPE B Tear-Aid, which is for all vinyl products, including PVC products. (PVC is a vinyl product.)
Please note:
For PVC backed nylon fabrics, the TYPE B Tear-Aid will only work on the PVC inside. See
Type A
for all other non-vinyl products.
Holds air under pressure even when stretched
See-thru patch works with all colors
Conforms to irregular surfaces
Won't turn gummy in heat
UV resistance inhibits discoloring
Cuts easily with scissors
Won't pull off when stretched

EACH PATCH KIT CONTAINS TYPE B VERSION:
(1) 3" x 12" TEAR-AID® Patch that cuts with scissors to any size,
(1) 7/8" x 7/8" Patch,
(1) 1 3/8" x 1 3/8" Patch,
(1) 12" Reinforcement Filament for repairing tears at edges,
(2) Alcohol Prep Pads,
(1) Illustrated Instructions and a Product Repair List